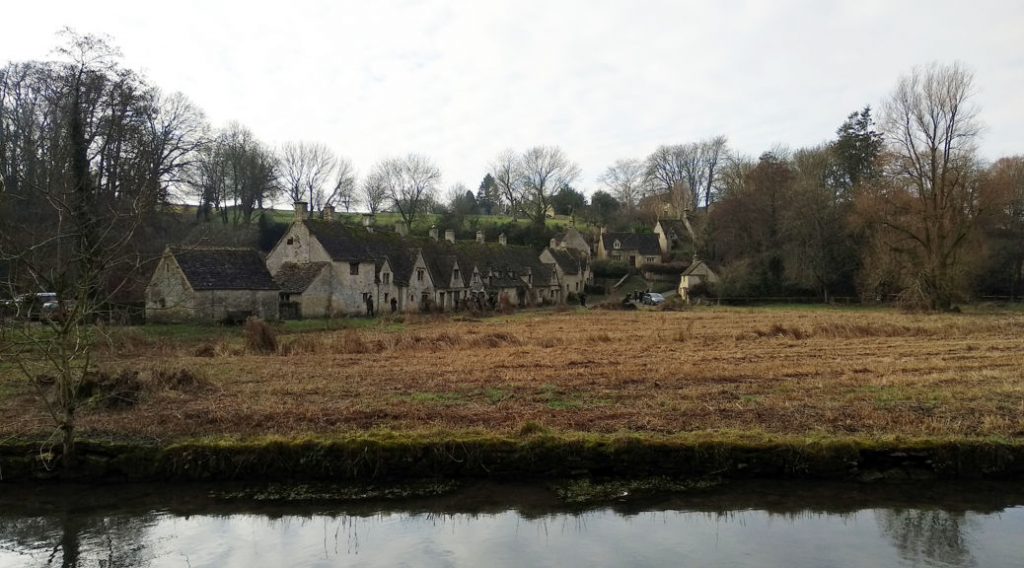 A belated 70
th
birthday present from Becky and Andy: 3 nights (Friday to Monday) staying at a huge, luxurious converted barn in the Cotswolds at Chedworth. Self-catering, of course, and all cooking done by Mel and enjoyed by everyone.
Andy drove us down in his new BMW, which was almost like flying business class: heated seats with optional massage, personal screens for TV or satnav, loads of leg room. Youngsters, eh?
Stopped off for lunch at
The Green Man
in Middleton, near Tamworth. Not cheap, rather crowded, but excellent grub. From there, not too long to get to Chedworth, followed by a trip to Waitrose in Cirencester to stock up on food.
Saturday was a visit to Oxford. Only an hour's drive to the Pear Tree Park & Ride, and a short bus journey to George Street. Becky and Andy feeling very humiliated at having to take public transport, which I did find enjoyable in a
schadenfreude
kind of way!
Weather was cold and wet, but we made the most of the time. I had the foresight to get Rob's Alumni Card for Andy to use so that we could get easy access to the colleges. And it worked! First port of call was Christ Church; we went in through the St. Aldates entrance (non-alumni have to use the back entrance from the Meadow) and were immediately confronted by a proctor emerging from his sentry box. A quick flash of two Alumni Cards and we were in! (These cards have no sensible identification on them, just a name and a number that relates to nothing significant.)
Andy seemed to love the whole Christ Church vibe and took many photos. Then on to Magpie Lane, where they were amused to learn its original name (Gropecunt Lane, a brothel area…). Followed by pointing out my old BNC room (on Heberden 2, as seen from the High) and an aborted attempt to get into BNC: gate closed and access only by key!
(
Oh, must add: a moment of inspiration from Andy at Carfax on the way to Christ Church. There was a demo with a banner "Vigil for Gaza". He snapped it and uploaded to Twitter saying "straight swap or fee involved?" i.e. Virgil (Van Dyke) for Gazza
.)
The Bodleian proved another great photo opp for Andy, with a Harry Potter reference to the Divinity School. But the best bit was at the side of the Sheldonian, where we stopped and I told about J.K Rowling looking for inspiration for HP's "birthmark" – then pointed down to the Z stonemason's mark on the floor! Great moment, and I got it right, thankfully: I'd only found out about it a couple of days before!
Lunch taken in The Kings Arms after The White Horse and Turf were far too crowded. Then on to the covered market, which was a bit of a let-down: seems very run-down now, and outside on Market Street seemed to be a meeting point for local smackheads. And that was about it.
Decided to drive back to Cirencester to stock up yet again, and, on the way, came across the Arlington cottages at Bilbury. Wondered why there were so many tourists about the place, and then noticed the cottages. Looked magnificent, so came back for a proper visit the next morning. And their other claim to fame is being on the inside cover of UK passports!
Other highlight: red kites spotted a couple of times on the A429 to Bourton-on-the-Water.