Matt Hutchinson (Grandad) Obituary
Lincolnshire Times 23rd February, 1973, by Edward Dodd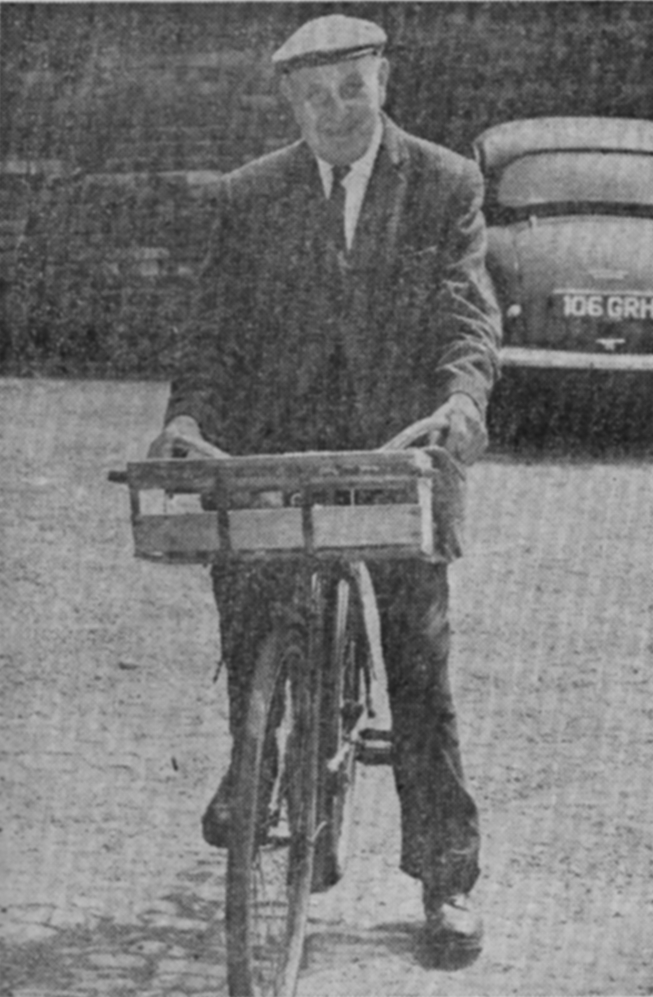 It was from this picture of Matt Hutchinson, taken by Lincolnshire Times photographer Bryan Robins, that Brigg artist Mrs Lillian Codd painted a realistic reproduction that was on exhibition for over a year. Mrs Codd presented the picture to Mr Hutchinson last Christmas.
WE ALL THOUGHT MATT WOULD GO ON FOREVER
Matt Hutchinson, the man who carried in his head the history of Brigg for the best part of the last 100 years, died suddenly last Thursday. Nobody ever thought he would, not even though he was 93 years of age. He had been around so long that he seemed to have become a permanent feature of Brigg. Other people could die, as he well knew, for as one of the local undertakers, he had on occasion dealt with three generations of the same family. But Matt — it was thought he would go on forever.
Matt the legend—he could tell you exactly what so-and-so said to him in 1890 or 1897, particularly the latter, for that was the year of Queen Victoria's diamond jubilee and he loves to retell all the happenings at the celebrations on the eventful day.
That was the day he was impressed by the glitter and the pomp of Brigg Town Band as they led the parade. He decided it must be a fine thing to be a bandsman and so he joined them in the following year. It was an association he was to retain for the next 75 years, for even in the last few days of his life all he would talk about was "the band".
TROMBONIST

Matt was the band's sole trombonist for many years, and although there was a lapse in the late fifties and early sixties, he carefully stored many of the instruments in the rafters of his workshop, and dusted them down when the band was reformed in 1964.
For the next two years he never missed a rehearsal, and was a regular member of the band at contests at Manchester, Oxford, Leicester, Cleethorpes, and Nottingham, retiring when he was 85, as he said, to make room for a younger man. He was invited back the following year, on the occasion of his 86th birthday, to play one of his favourite marches with the band.
Even in retirement he kept his trombone, and years later, when he was getting on for 90, he would confide to his bandsmen friends, with the shy smile that was characteristic of the man, that he had been having "a bit of a blow".
SURPRISE
But during the whole of his 70-odd years' association with brass bands, there was one occasion which gave him more pleasure than anything else. It was his golden wedding in June 1965, when he had arranged a private dinner party for his family and close friends at the Angel Hotel, Brigg.
Unbeknown to him or his wife, the Brigg band had arranged to give him a surprise—they set up their stands in the Angel courtyard as soon as the family had gone in to dinner, and played all the old favourites of 1915.
Matt was never known to take a holiday. He did admit to once having a day off. It was a long time ago, and he remembered the occasion very well because he had just nicely got to Lincoln when the news came through that Mafeking had been relieved. As a member of Brigg's team of campanologists, he had to get back to Brigg post haste as the transport of those days would allow to join the bellringers at the parish church.
ON STAGE
It was about that time, just before the turn of the century, that he began an association with the forerunners of the present Brigg Amateur Operatic Society—the St. John's Musical Society—that was destined to last right up to 1973.
He was an active member of that group, which produced "Christ and His Soldiers" and then "Sherwood Queen", both of which were presented locally, and then transported scenery, cast, and all to Caistor Town Hall for more performances. The transport in those days was horse-drawn wagonettes.
For many years he played a dual role in the operatic society as stage manager and as trombonist or violinist in the orchestra. As stage manager, he would see that all the scenery was set in place and then dash to his place in the orchestra pit. As soon as the interval arrived, there would be another dash backstage, change the scenery, and back again to the orchestra.
BROKEN HIP
During the society's early years, before the Corn Exchange enjoyed the luxury of a stage, it was Matt's job to construct a stage by putting together all the corn merchants' boxes—that was when the building really was a corn exchange—and laying planks across them.
In recent years, he had been content to be assistant stage manager, but his role was still an active one. As recently as last November, not all that long out of hospital after recovering from a broken hip, he hobbled up the iron staircase at the Corn Exchange to help out with the scenery for "Fiddler On The Roof".
Born Matthew Partridge Hutchinson, he was one of the sons of Mr Henry Hutchinson, joiner and wheelwright, and also licensee of the Rose and Crown Inn, Wrawby Street, Brigg, long since redundant. Matt was born at the inn nine years after his father had taken over the licence, and he used to tell of the days when they brewed their own beer in a huge copper.
CRAFTSMAN
Although most people have always known him as a joiner and undertaker, his first job in fact was an errand boy at Gale's printing establishment, Brigg, when he earned half-a-crown a week. Later, as an apprentice printer, that was increased to 5s a week, considered a princely sum in days when most apprentices worked seven years for nothing.
He had almost qualified as a master printer when he decided to switch to joinery and wheelwrighting. He became a first-class craftsman and he took over the family business when his father died.
Although he was supposed to have retired a few years ago, it is true to say that he never stopped working. He had his own workshop attached to his home in Grammar School Road, Brigg [actually Colton Street], and in recent months had made a dog kennel for a customer and a meat safe for himself.
CYCLIST
Until the incident that put him into hospital, he had always ridden a cycle. Even at 90 years of age, he could be seen around Brigg with a long length of timber protruding fore and aft, provoking the wrath of lorry drivers, and prophecies that one of these days he would be killed in the thick of Brigg's traffic.
But he was never in an accident while he was actually riding, although when his cycle was stolen about eight years ago, there was a theory that friends had done it for his own good, thinking that he might give up. But Matt had a lot more friends, and they clubbed together to buy him a new bike. It was while he was getting on the machine in 1971 that he missed the pedal and fell, breaking his hip.
In his younger days, he had played football for Brigg Albion FC and was also the club secretary. He was also a special constable for many years, a life member of the operatic society, and a life member of the National Brass Band Club.
MEMORIES
But what gave his many friends enormous pleasure were his first-hand accounts of all the local happenings of long ago—how he attended dancing classes organised by Lady Winefride Elwes for the servants at the Manor House—Lady Winefride always referred to him as "Matt the coffin-maker"; of Brigg Fair of 70 or 80 years ago, when small beer was 2d a quart, when the pubs were packed by 6am, and the customers laid out to sober up on the grass verges outside the police station by 8am; of going to Brigg railway station to collect the very first issue of the new halfpenny Daily Mail, described by the then aristocrats of Fleet Street as the paper "written by office boys for office boys"; of doing a morning milk round for 6d. a week; of the many interesting characters who had passed through the Brigg scene during such a long lifetime—never realising that he was the most interesting of them all.
As the vicar, the Rev Roy Cochrane, said at the funeral service at St. John's Church, Brigg, on Monday, one of the things one could not help noticing was that whenever there was a service for someone over 80 years of age, never mind 90, there were usually very few people present "for the simple reason that they have outlived most of their friends and contemporaries."
It was good, therefore—and it was something that would be appreciated by the family—to see so many people in church that morning to pay their last respects to Matt Hutchinson and to express their feelings about the man he was—it was not a matter of age—a man who had lived such a long and useful life.
MOURNERS
Family mourners: Mr and Mrs M. W. Hutchinson, son and daughter-in-law; Mrs Joan Parkin, daughter; Mrs A. Hutchinson, sister-in-law; Mr and Mrs C. W. Hutchinson, Mr and Mrs C Clark, Mr and Mrs E. Tedder, Mr and Mrs J. R. Kemp, Mr Hugh Clark, Mr Peter Clark, nephews and nieces; Mrs A Knott, Mr B. Storer.
Others included: Mr and Mrs F. A. Keel, Mrs Doris Johnson, Mr E. W. Havercroft, Miss A. E. Meanwell, Father John Berry, Mr J. Booth, Mr J. Neave, Miss V. Scuffham, Mr C. Firth, Mr G. C. McCarron, Miss R. May, Miss N. May, Mr and Mrs R. Morris, Mr and Mrs C. Codd, Mr R. M. N. Spring, Mr J. R. Wallhead, Mr M. Coupland, Mrs D. Clarke, Mr R. O. Phillips, Mr A. V. Turner, Mr T. Dixon, Mr J. Markham, Mrs H. Twilley, Mr E. Foreman, Mr and Mrs G. S. Spittlehouse, Miss Alice Kennington, Mrs Fred Edlington, Mrs B. White, Miss V. White, Mrs E. Foster, Mr A. Good, Mrs G. E. Neall, Mr and Mrs V. Hall, Mr C. Parker, Mrs B. Lancaster, Mr J. H. Bell, Mrs N. Jacklin, Mr T. Clark, Mr C. W. Sambrook, Mr W. C. Dickinson, Mr W. Sherwood, Mr D. Evans, Mrs F. Fry, Mr F. Parkinson, Mrs N. Glenwright, Mr H. Denton, Mrs H. Rowbottom, Mr A. Keal, Mr and Mrs G. Neall, Mrs C. Smith, Mr J. Dorr, Mrs M. Saberton, Mrs B. Kettrick, Mr H. Lancaster, Mr J. Young, Mrs T. Melton, Mr W. Bains, Mr C. Taylor, and Mr L. Vincent.
Representing organisations were: Mr and Mrs C. A. Benson, Mr F. West, Mr V. J. East, Mr C. Miller, Mr J. F. Robinson, Mr R. E. Robinson, Brigg Town Silver Band; Mr Frank Foster, Barnetby Silver Band; Mr E. Dodd, the Association of Lincolnshire Brass Bands; Mr P. Bell, Brigg Amateur Operatic Society; Mrs E. Robinson, Coun. E. W. Robinson, chairman, Brigg Urban Council; Coun. B. M. Robins, Coun. W. T. Smart, Coun. E. P. Gallard, Brigg UDC; Mr H. N. Campbell, Stamp and Sons, Builders, Barton-on-Humber; Mr W. G. Taylor, exors J. T. Kettle, Brigg.